Since releasing her first album "New Name" in 2013, JAH9 has become the unmissable "Reggae Revival" feminine artist. Priestess of Jazz On Dub, she is preparing her return on stages with her Jamaican group "The Dub Treatment" around a new album scheduled for 2022.

With her last album "Note To Self" (03/13/2020 - VP Records), Jah9 delivers a new part of herself, more intimate but always orientated towards others.

In live show, it is a resolutely mystical experience that awaits you with her bewitching vibrato wich remaids us a certain Ella Fitzgerald, her current freshness like Erykah Badu and her deep aura of certify yogini !
More Info
The shift in Jah9's world and story, began at an early age of 9 when she moved from her home in Falmouth, to live in the urban wilds of Kingston. Born Janine Cunningham, she later came to accept the childhood nickname Jah9.
The powerhouse vocalist we have come to know and love, only emerged from her musical cocoon post initiation into the literary world through poetry. Her love for the written word helped her to channel some of the dynamic thoughts she began to have later-on in her life, during her tenure at the University of The West Indies. Here, she was able to nourish the growing consciousness instilled in her by her father the preacher and her mother, the social worker. She found kinship in the like minds of the Rastafari brethren she came to know during her time there, where she developed a keen reverence for Haile Selassie I.
Jah9 became a staple in the underground poetry scene by 2009, where she also fell in love with the hypnotic sounds of dub in roots reggae music. She started to write songs to these instrumentals where she felt confident her words would have room for digestion, and they found eager encouragement. Her first demos were recorded with keyboardist Sheldon Bernard, they caught the attention of the legendary Beres Hammond who later helped to develop her recording technique. 9 recorded her first two singles with the help of Donovan Bennett of Don Corleon Records in 2010 to critical acclaim.
She would later release her debut album titled "New Name" in 2013, produced by iconic selector Rory 'Stone Love' Gilligan, which spoke to the core of her philosophy as a human being and artist. There she was able to project the messages she un-earths throughout her spiritual journey.

"New Name" was voted album of the year by AchisReggae.com, warmly described as "the superb sum of its parts: a straight cultural roots album". 9 has performed with her band, the Dub Treatment, on stages and music festivals all over the world since then and even incorporates her popular rhythm-based experience called Yoga on Dub, to supplement. Her words are a reflection of her life and the ways she chooses to direct her energies. All her pursuits, whether music or otherwise, culminate into a levity, a mission to heal, nourish and grow through her powers as a woman, yogi, poet, artist and activist.
In 2016 Jah9 released her follow up album titled simply "9" which cemented her innovative Jazz on Dub style. 9 continues to push the boundaries of the world she was born in as she forges her path. The next steps in her journey are currently being curated for the staging of her next great body of music.

Jah9's album "Note To Self" released in March 2020, elevates her to a new musical space combining her spiritual identity and sultry vocals to radio friendly contemporary reggae rhythms.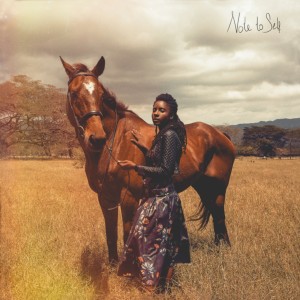 Jah9 - Note To Self
2020 /
Heaven (Ready Fi Di Feeling)
Ma'at (Each Man)
Mindstorm
Note To Self (Okay) feat. Chronixx
Field Trip
Never Race (A Way) feat. Akala
Hey You
Highly (Get To Me)
Feel Good "The Pinch"
Love Has Found I
You And I feat. Pressure Busspipe
Ready To Play feat. Tarrus Riley
The Reflection
Could It Be
In The Beginning